This comprehensive program dives deep into the core principles and practices of procurement and supply management, encompassing subjects such as strategic sourcing, supplier relationships, procurement ethics, and risk management, among others. Our curriculum is designed with the modern challenges of global supply chains in mind, ensuring that our graduates are well-equipped to handle the multifaceted issues of today's procurement world.
Applicants with a baccalaureate degree in all its branches (old or recent), are admitted regardless of their overall score.
Also, international university admission certificates are admitted (SAT, GED, Btec level3, A-level, Freshman, YÖS).
Students without a high school diploma are also admitted after completing the Pearson Level 3 Diploma.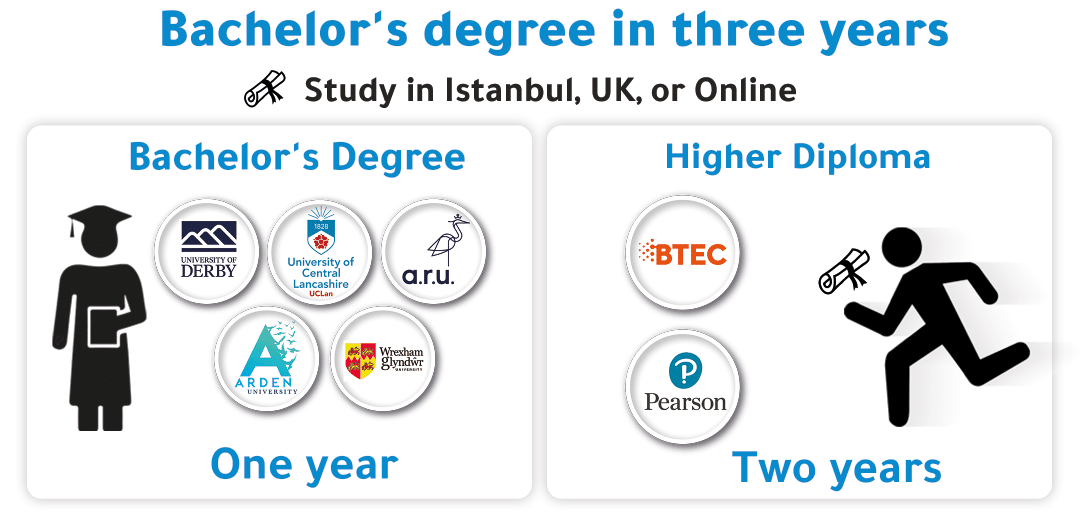 The diploma is addressed to:
Those looking for a job in the field of business administration
Those who are already working in the field of business administration and want to advance and promote their career.
Commitment to Continuing Professional Development (CPD)
Completion of studies in universities to obtain a bachelor's degree, "university degree," where a higher diploma is the first two years of a bachelor's degree.
Those who wish to study professional specialization in business administration and at the same time academic adjustment.
Businessmen and company owners who want to develop their managerial skills and their work to make their companies global.
Study Plan at ABChorizon up to Bachelor's Degree:
Six months extension in the English language (if you choose to study in the English language).

Two years to obtain the UK Higher Diploma in (Operations Management) you can study in Turkey or online.
One additional year to obtain a UK Bachelor's degree from one of the following universities:

ARDEN University
A.R.U.L
 University of Central Lancashire
Wrexham Glyndŵr University
University of Derby
You can study it in the UK, Online, or in Istanbul.
* Only if the student does not have a baccalaureate, they need to study "BTEC level3" for a period of six months, which is considered a UK baccalaureate.
The issuance and reliability of the certificate:
The HND certificate issued by the UK Pearson Authority is fully certified in many countries of the world.
The certificate is accredited by:
    Ofqual, England and Northern Ireland's examination and qualifications organization office
    CCEA is the organization responsible for examining and auditing curricula, examinations and evaluation in Northern Ireland.
There are 1,371 universities around the year admitting BTEC qualifications
There are also 820 centers around the world that offer BTEC qualifications
Where our center obtained the accreditation from Pearson BTEC for the National Higher Diploma based on its standards, number 91667, this certificate is recognized in Britain and the countries of the world.
The study is available in either English or Arabic.
There will be an indication of the final certificate on the language of study and assessment.
Study at ABChorizon Turkey Istanbul or one of our branches around the world or online.
The center provides the ability to study remotely using the Internet through the electronic platform of our center, where the student can follow up the lectures, view the recordings and interact with the trainers through multimedia directly, and the platform also allows them to even discuss and defend their projects with the professors and the Internal Verifier in the Academy of ABChorizon and BTEC Standards Verifier in Britain.
The Fifth Level Higher National Diploma offers the following subjects for students who wish to focus on a specific aspect of work:
First year units (8 Units L4)

  Second year units (7 Units L5)

  Business and the Business Environment

  Marketing Essentials

  Management and Operations

  Human Resources Management

  Management Accounting

  Managing Successful Business Project

  Entrepreneurship and Small Business Management

  Financial Accounting

  Organizational Behavior

  Principles Operations Management

  Supply Chain Management

  Business Strategy

  Statistics for Management

  Sales Management

  Research Project
The British Higher Diploma program costs $3000 per academic year.
As for the costs of the third year, it depends on the university, specialization, and learning style.
This fee does not include the cost of English language courses or books.
Possible job after graduation:
Graduates of the Pearson BTEC Higher Diploma in Procurement and Supply Management can anticipate a bright future in the sector. With the invaluable skills and knowledge acquired through this program, they're well-positioned for roles like Procurement Manager, Supply Chain Analyst, Purchasing Specialist, and many more. Indeed, completion of this specialty is a distinct marker of expertise in the field, and we are proud to note that many of our alumni have achieved remarkable success in their careers.
Papers and Admission Requirements:
1- A copy of the baccalaureate certificate certified by the Ministry of Foreign Affairs of the country obtained, or any university acceptance certificate such as SAT, Yös or Level 3 Subsidiary or Diploma.
2- A Copy of two personal proofs containing the name and personal photo.
3- Three personal photographs
4- To Fill in the BTEC registration form, (please download the application in the link below and fill it in carefully then sign it): Download Link.
5- Download and print out this contract Download Link.
6- Read the contract well, fill it in and sign it (English and Arabic version)
7- Read the students' handbook: Business, Computing
8- Read the personal data file: Download Link.
9- To fill scholarship form (please download the application in the link below and fill it in carefully then sign it): Download Link.
International Study
No matter where you are, you can earn an international degree. With our online education system, distance is no longer a problem. Study at ABCHorizon and increase your opportunity of recruitment.